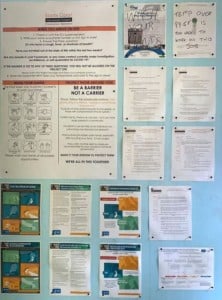 A local building inspector recently visited one of our job sites. Before setting foot on the job, he was asked to wash his hands at a hand-washing station we had specially set up. His temperature was taken, and he was asked to check in and respond, in writing, to Covid-19 Job Site Entry questions. After completing all these tasks—and passing the established criteria of no temperature and reporting no symptoms—the inspector entered the job site.
This protocol, illustrated on the board on the right, is just one critical part of building through this crisis. And it's a protocol we put in place on March 1, 2020 at every job site. This protocol is one we probably will have in place for months and years to come.
In a time like this, you simply can't take enough precautions. That's a mantra we have lived and breathed as a general contractor specializing in renovations in many ultra-sensitive occupied spaces, including but not limited to assisted living and senior living facilities and nursing homes. And it's a way of working that has earned South Coast Improvement Company a certain level of trust with some of the larger assisted living and senior living facilities up and down the east coast.
We are tremendously grateful for the trust our clients have shown us over the years and the trust shown in us now as we continue work on much needed renovation projects at some of their facilities. Many of these projects are residences for the most vulnerable to this virus. That our clients have the faith in South Coast Improvement to take the needed precautions says quite a bit and means the world to us.
That's why we take the above-and-beyond precautions detailed on the board above. And it's why take other measures to ensure a safe work space–like walling off the areas where work is underway.
Our gratitude also lies with our staff and subs who are also working within the confines of a new way of doing things. We have always taken great pride in our people and they are showing their mettle during this crisis.
Perhaps the best evidence of that is some feedback received from some Board of Health representatives from the municipalities where we are working. To paraphrase, they were impressed with the protocols we had in place and the strict compliance our people showed in enforcing those protocols. It's the kind of feedback a business owner never tires of hearing.
In previous newsletters, you have heard me talk about our history as a company and how we held our head above water during the financial crisis of 2008-09. You will hear no bold predictions from me at this time about what will happen when this current situation ends. We are in a crisis. What matters most is the health and well-being of everyone, particularly our most vulnerable, the senior citizens.
There's no sugar-coating it that this is a difficult spot. Yet I'm a firm believer that good can come out of even the worst situations—even this current one. That starts with gratitude for the many blessings each and every one of us has. At our company, we are so grateful for the success we have enjoyed over the years and the tremendous people who have been part of our extended family. Our thoughts and prayers are with you during this time and we will make it through this.
Lastly, we want to let you know we are available to you during this crisis. If you need work done, just let us know. If it's just a call to get our thoughts on certain things, great. Glad to hear from you.