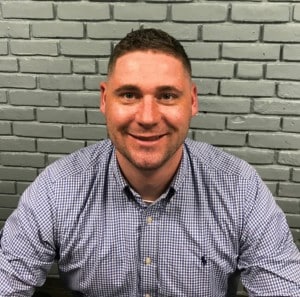 South Coast Improvement Company (SCI), a design-build general contractor serving New England and the Mid-Atlantic states, recently promoted Gareth O'Neill to project executive. O'Neill has worked for the Marion, Mass.-based contractor since 2015, starting as a construction site supervisor and promoted to project manager and then business development executive.
"Gareth is a superior talent, possessing both a builder's point of view and the people skills and instincts of a business development pro," said Tom Quinlan, president of South Coast Improvement Company. "The combination of these talents and his experience make Gareth an invaluable part of our team."
A construction veteran with international experience, O'Neill has worked in supervisory and laborer roles on construction projects in his native Ireland, Australia and the U.S. During his tenure at South Coast Improvement, he's worked as supervisor on renovations at Harvard University, Northeastern University, Boston College, MIT, Milton Academy Milton Academy and numerous other projects.  His business development accounts include projects at Concord Academy, the Perkins School for the Blind, the Atria in Stamford, CT, Brookdale Senior Living and a number of other SCI projects.
O'Neill cut his teeth in the construction industry as a glazier back in his native homeland of Ireland. His supervisory career began as crew manager for Clifton Formwork in Melbourne, Australia in 2009. When arriving to Boston in 2011 he learnt the skills of carpentry, drywall and veneer plastering, which helped prepare him for the site supervisor role he took on when joining South Coast Improvement in 2015.
"To me, the construction industry provides great learning opportunities and I could not ask for a better classroom and teachers than the team here at South Coast Improvement. My my quick rise through the ranks would not have been possible without the one-to-one mentoring from Tom and Henry Quinlan plus a collective willingness to help from everyone on the SCI team," said O'Neill. "I'm extremely excited about this new opportunity to help South Coast Improvement continue the growth we've experienced the last several years by winning more repeat business and new client projects."
O'Neill holds a bachelor's degree in physical education from St Mary's University, Belfast and a master's degree in marketing from University of Ulster in Jordanstown, Ireland. A licensed construction supervisor, he resides in Weymouth, MA.