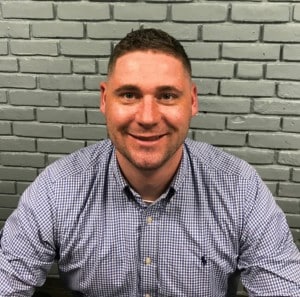 You'd remember him if you have—he's one of those people that you remember.
Six years ago, Gareth walked into my office in work boots, gym shorts and covered in plaster. He had been a professional Irish footballer who had landed in Boston. I was looking for a Superintendent for a tricky project at a Boston area private school. At first glance, I thought "No way!".
As I talked with Gareth, I found he had a good knowledge of assemblies and was supremely confident. It was one of those interviews where you didn't check all the boxes on the candidate, but you just saw something in him. At draft time, the Patriots always take the best available player regardless of position. I followed suit here.
Gareth attacked the project with the enthusiasm and thoroughness that we have come to know and that he brings to everything he does. After about a month on campus, I attended a construction meeting. From the project manager for the school, to the Campus Police, all the way to the cafeteria staff—everybody knew Gareth and had a big wave and hello when he passed by. The school project manager pulled me aside, and he is well known in Boston construction world, and said "this guy is one of the best Superintendents I've met"—high praise indeed from a guy that had managed projects with Boston's biggest GC's and CM's.
We have grown as a company by a factor of five since then. In young growing companies there are opportunities. Gareth jumped next to APM on what was the biggest project we had done at the time. It was a $10MM occupied renovation for our blue-chip client. By the end of that project, the client was more than comfortable meeting with Gareth alone—the PM could stay home.
During the course of that time, I've watched Gareth work through some of the stickiest of project issues that come up. One was with a glass company that had to be replaced midway through the project for performance issues. In the warranty period, there was an issue with the glass they had installed. Getting timely warranty work from a fired subcontractor is not an easy ask. A week later, I walked into construction office onsite and there was Gareth sitting with a sub going through a plan of attack. Smiles and cooperation all around—-who was it??? The glass sub who had been replaced!
Fast forward to today, Gareth has provided project management services for major clients you would all know. To a person, they all hold him in the highest regard.
Take a solid construction base, add in enthusiasm and drive, an athlete's competitiveness and a BIG personality and you've got a winner. Gareth has earned his way to a senior role here at South Coast Improvement Company. From Florida, out to Pittsburgh and north of Boston, Gareth has done some great work and made some wonderful friends along the way. "You will not be disappointed!" is what I always say to clients about to embark on a project with Gareth. They never are.
Do you want to work on a project with Gareth? If so, please give me a call.