Wisdom from the director of staging at a boutique design firm
When decorating small spaces, Andrew Bowen concentrates not just on whether the couch will fit, but on scale—the proportion between said couch and the room it occupies, the table beside it, the rug, everything. Are the parts in harmony or conflict? Too small for the room and the furnishings will look, well, small (our full-size sofa will never fit where that love seat is!); too large and they'll look crammed into the space (this room won't even hold a full-size sofa!). As the director of staging at rising-star design firm ASH NYC, Bowen is tasked with maximizing the potential of every home the team designs, as well as finding—and often custom-ordering—furnishings and decor to perfectly suit the size, shape, and feel of various rooms. "In staging, scale is always extremely important—it's something that we are very obsessed with and a lot of people don't pay enough attention to," he tells AD, going so far as to say that the size of a sofa or a rug matters to the inch.Here are five ways he ensures that a small home looks as comfortable as possible, which, you know, matters especially when you aren't staging it to be sold (but then, too).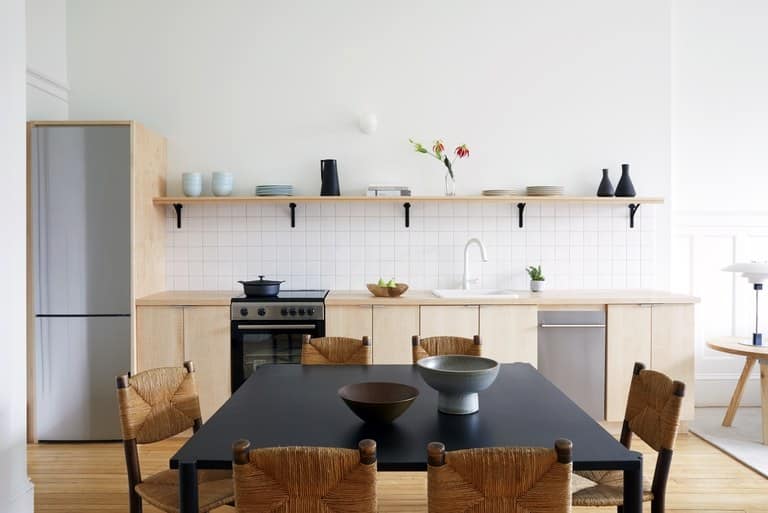 One of the model kitchens at 225 Weybosset in Providence, Rhode Island, designed by ASH NYC and staged by Bowen's team—the subdued palette keeps the space feeling open and calm.
Courtesy of Christian Harder
Work in Multifunctional Pieces
Rather than adding an ottoman, a daybed, a bench, and a chest, look for a single piece that can serve all their functions, or at least a few of them—in this case perching, lounging, sitting, and storing, respectively. For a 250-square-foot studio apartment at 225 Weybosset Street, a new twelve-unit rental building by ASH NYC in downtown Providence, Rhode Island, where units range from 250 to 1,215 square feet, Andrew's staging team brought in oversize ottomans with ample storage inside them ("functional seating," as he calls it) and styled them to toe the line between daybed and dining room bench. Similarly, wooden blocks act as side tables and stools.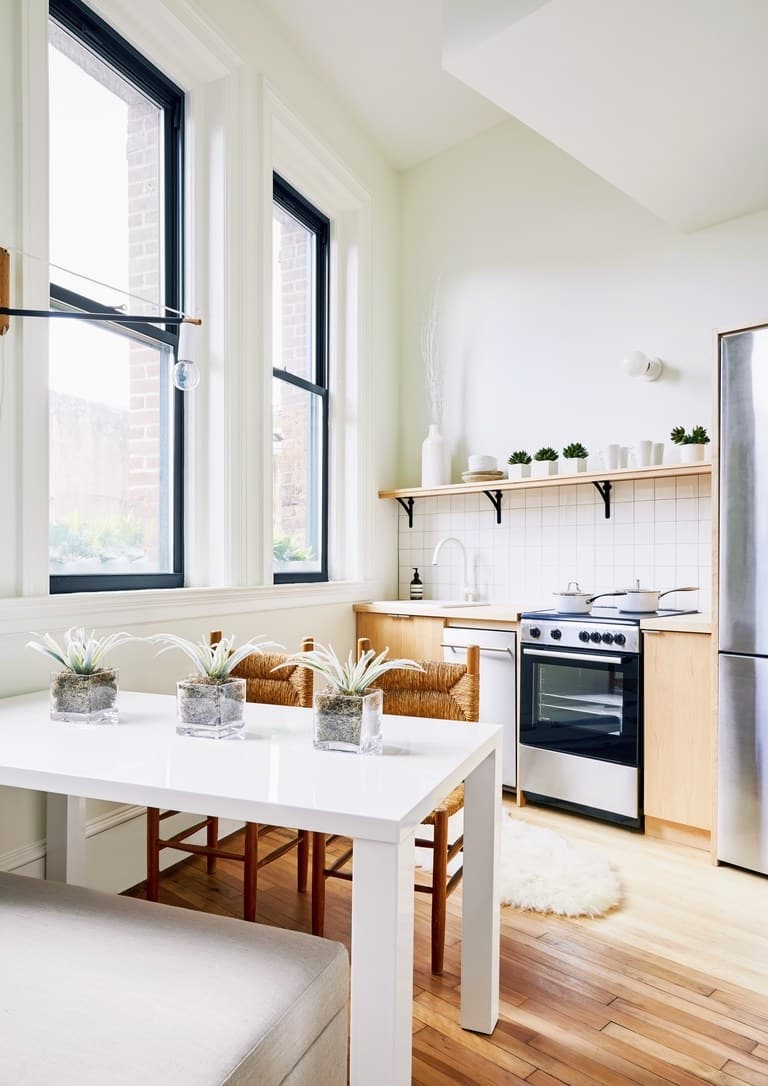 The aforementioned kitchen in a studio apartment at 225 Weybosset; its bench at the dining table also acts as an ottoman, daybed, and storage unit.
Courtesy of Christian Harder
Be Sure the Rugs are Large Enough
"I won't even use a rug if the vast majority of the furniture is not sitting all on it," says Bowen, who typically pays to have a custom rug made for most of the homes the firm stages—that's how critical it is to making the room look as large as possible. "Having a rug that's too small makes the room read small," he says.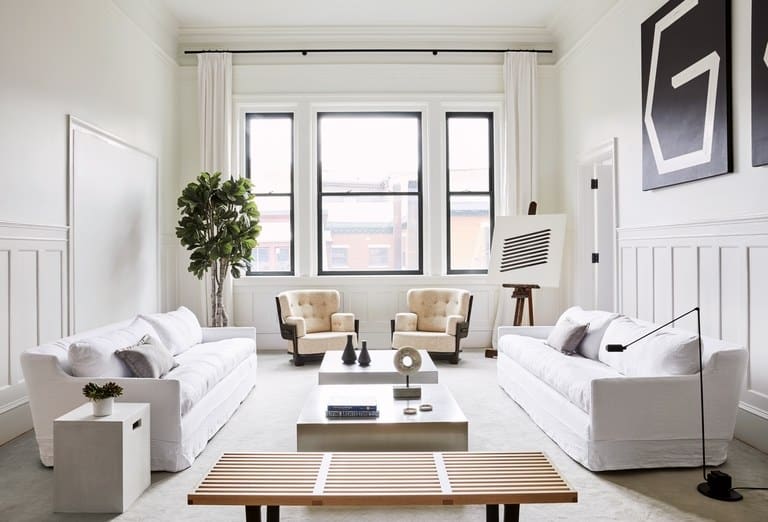 One of the living rooms at 225 Weybosset, with a large rug that goes almost all the way to the walls of the living space.
Courtesy of Christian Harder
Carve Out a Walking Loop
Besides first pulling all the furniture away from the walls, to keep the room from feeling cramped, Bowen also clears an obvious path through the setup—as what's the good of a well-proportioned arrangement of furniture if you can't move through it? "Walking space is absolutely crucial—I can't stress that enough," he says, adding that "there's this idea of the walking loop, because you never want a walking dead end. That makes a room feel bigger."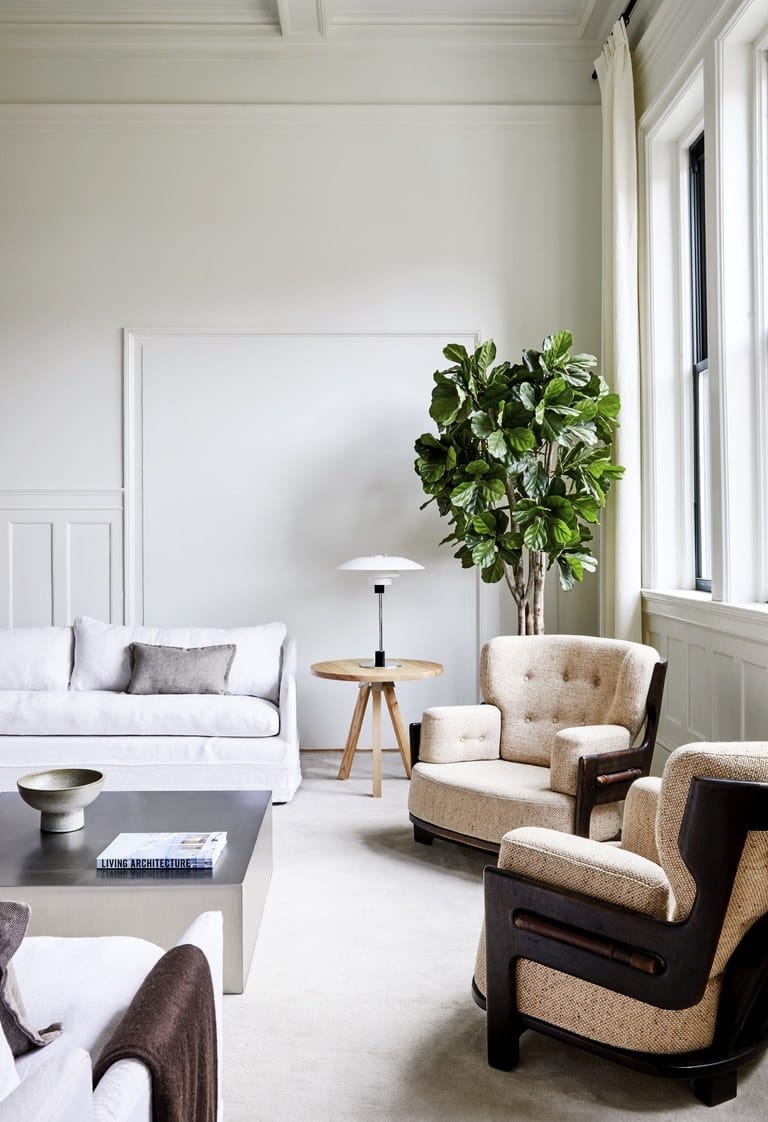 Getting around the sofa: just as important as the fabric on the sofa.
Courtesy of Christian Harder
Steer Clear of Harsh Colors
While not dedicated to a completely neutral palette in their staged interiors, Bowen and his team do tend to keep harsh colors at a minimum—if only because they can be jarring. "When it comes to paint, we use white all the way to black, cool to warm, some navys, some greens, and the occasional mauve. . . . We stay very far away from red walls, orange, and yellow, which reads McDonald's."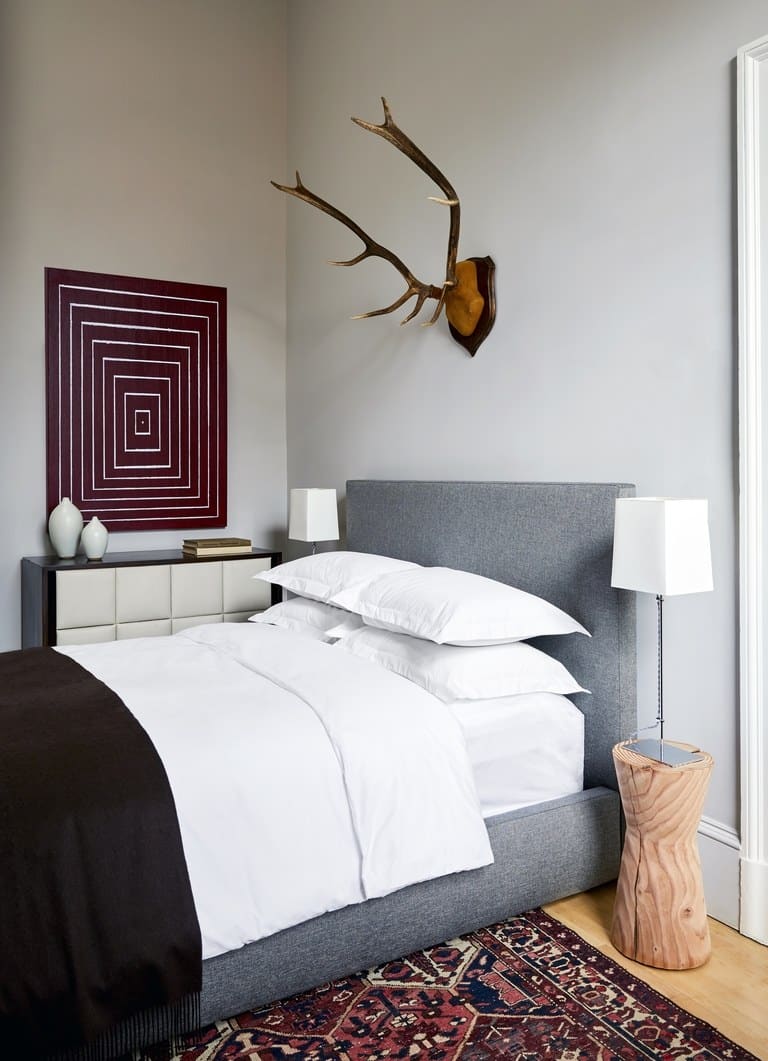 Large art and deep mauves feel right at home in this gray bedroom—a dose of personality and color that actually emphasizes the scale of the room.
Courtesy of Christian Harder
Don't Be Afraid of Big Art
Across from a curious architectural feature in one of the 225 Weybosset rooms, a passageway to a once-adjoining apartment that has since been filled in, Bowen hung a massive trio of artworks to balance out the scale of the feature. Rather than dwarfing the room, he says, these big artworks actually fill the space, emphasizing its tall ceilings.
Click Here to read the article in Architectural Magazine.