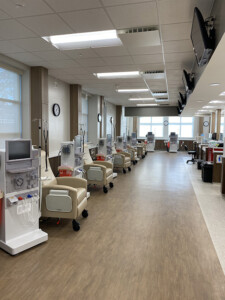 South Coast Improvement Company (SCI), a design-build general contractor serving New England and the Mid-Atlantic states, recently completed work on a new construction project at Fresenius Kidney Care, 981 Suite 1B, Worcester Street (Route 9) in Wellesley. The Marion, Mass.-based company completed work won the project earlier this month.
The project featured new construction of an 8,250 square-foot facility, including a 16-bed dialysis center.
"According to the National Kidney Foundation, kidney disease affects an estimated 37 million in the U.S. Many of those folks need kidney dialysis treatment. We're grateful to work with an esteemed organization as Fresenius Healthcare in creating a facility that will help more people get the care they need," said Tom Quinlan, president of South Coast Improvement Company.
The project included the construction of an isolation room–a room with negative air pressure–to isolate patients with a contagious disease. Other project components included: staff support offices, a water treatment room, a new mechanical electrical and plumbing system and a full generator.
The project, which began in December 2020, wrapped up work in September 2021.
A division of Fresenius Medical Care North America (FMCNA), Fresenius Kidney Care is the worldwide leader in the treatment of renal disease and an innovative leader in kidney disease research. Serving over 190,000 patients in over 2,400 facilities nationwide, Fresenius Kidney Care is dedicated to helping people thrive on dialysis and live longer, healthier lives.