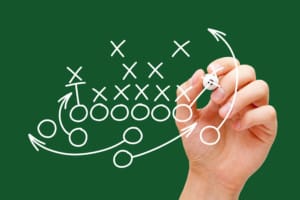 Compliment a good coach on a success and you will hear, "Hey, good players make good coaches!". Isn't that the truth? In the Belichick/Brady reign, I have yet to see Bill Belichick complete a pass, make a tackle or score a touchdown!
So, I look back at 2019 and take stock of some of our accomplishments. Like a major, out-of-the-ground, 50,000 square foot residential building. In Cambridge, a gut and build-out of apartments. Or a $10MM renovation in Florida. These are big time accomplishments for South Coast Improvement for sure. Yet if you look closely at each and every one of those projects, the players are responsible.
In 2019, new people like Grant Laliberte, Jake Robitaille, Phil Pagani, Bob Jones, Dana Farland, Phil McCusker, Matthew Jones-Smith, Rachael George, Jenn Martin, Matthew Crowley, Britney Peterzani and Paul Edwards—all true construction professionals—came in and made a big impact right away. A couple of these folks we found playing for other high performing teams and brought over (think Free Agent signing!). Some were diamonds in the rough—talent that for whatever reason was available and we benefitted (think waiver wire!).
We also had talent come up through the farm system to become key players. For example, Brian Donnelly is the equivalent of a late round draft pick who exceeded all expectations on the way to greatness! I remember Brian with his hair on fire at a project three years ago in Harvard Square. Now, he is running a site with 65 men, delivering a complex, three-story addition tying into an existing occupied building. To watch him in construction meetings handling the client, architect and design team is to watch a man who takes his job very seriously. Fun to watch.
We also retired a jersey recently and bumped an All Star (some clients would say Hall of Famer) up to the front office. Ethan Sherman has been the highest performing superintendent in the company. In the opinion of the construction team of a top 10 provider of assisted living, Ethan is as good a superintendent as one will find. That's why we bumped him up to general superintendent. As an owner, I cannot imagine having a better guy overseeing our field of superintendents. I already see the impact Ethan is having.
The truth is I am a blessed guy to work with the talent I get to work with every day. In every area-Estimating, Pre Con, Finance, Production and BD, we have some exceptional talent. Any success we have had over the years truly is their doing. To close the loop on the sports model—Sarah Murphy (the undercover Quinlan) is the GM out making deals for talent.
To sum up, 2019 was a year of some great pick-ups. We always want to talk with players. Even if we don't have an immediate need or the player isn't presently looking—why not meet? It's a long road and the more friends we have along the way, the better off we all will be!!