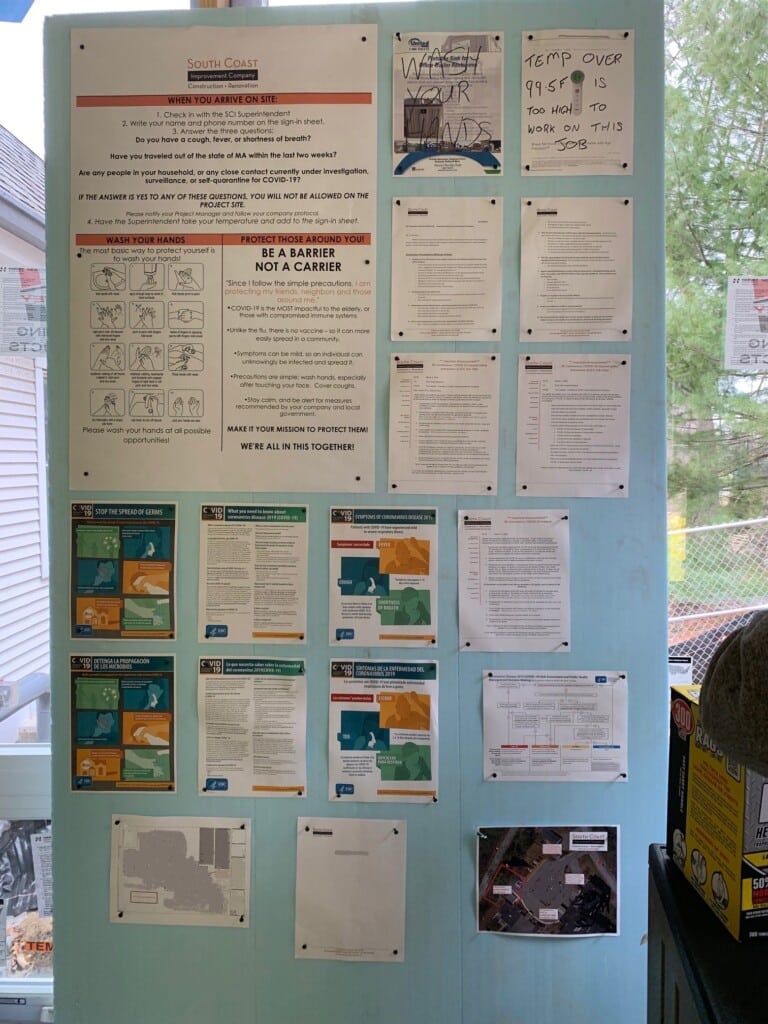 We're not quite there but (fingers crossed) the Pandemic of 2020-21 that our grandchildren will read about in school some day is almost in the rearview mirror. Never in my wildest imagination did I think, back in March of '20 that COVID would do what it did. Coupled with the pandemic, I saw things politically and socially that I also never thought I would see in the United States of America. I am not a political guy (and certainly am not here to change anyone's mind) but the surreal became normal in the last 15 months.
The dust is settling. Construction, as a whole, fared well enough in the pandemic. Certainly, the home remodeling market exploded and there is a housing shortage (although I scratch my head as to why this wasn't such a big problem pre-Pandemic). Our world here at South Coast got rocked. Senior Living is still cautious. We still have projects on hold. We've seen major REITs exit the business. New builds slowed dramatically. Renovations are being discussed but few triggers are being pulled. Skilled Nursing underwent a Hard Stop to any and all types of construction. One can easily see why.
As a business owner with no manual entitled "How to Survive a Pandemic", I fumbled my way through. I often wonder how I got through some dark days (75 percent of our business is Senior Living). I keep coming back to what I have discussed here many times. I learned and was humbled by the grit shown by people at South Coast Improvement.
To wit:
Project Managers who pivoted and reworked schedules on projects with limited access to perform work while not blowing up budgets. APMs who stood side-by-side with the project managers and made it happen. The creativity and thought that went into continuing these projects was nothing short of amazing.
I watched a Senior guy here take over an extremely difficult project that was beset with major design issues and an absolute maniac for an OPM (I actually like and respect the guy, but he is rough stuff!!) dig in and in spite of the city of Boston looking like Armageddon, show up and muscle forward when the excuse to Tap Out was right there.
Superintendents soldiered on, including those doing work in a Skilled Nursing facility that used timers on them for access to hallways. On one project, we were limited to a certain number of hallway crossings in a day. The tradesmen were required to wear gowns, gloves, face shields and gloves while performing work. In addition, The OPM placed the onus of monitoring COVID protocols on the Superintendent with zero added costs to the projects. While I completely understand the need to require these protocols (we were an early proponent before many states had COVID protocols) I didn't always agree with the OPM that the onus should be solely on us at no added cost. But the Super never, ever complained. I did. He didn't. None of the Superintendents did. Some flew in planes back when no one would.
An accounting staff that suddenly was burdened with layoffs, re-hires, PPP, and tax changes never complained. We were also in the midst of switching banks. That team never blinked—they moved forward. They were awesome and handled it all—even when my Controller was seriously injured and out for months—with no complaints. Everybody stepped up!!
The estimating team, led by a Rock that defines grit. The man showed up every day ready to go to work. He led by example every single day.
A BD Team that never once said "How do I sell in a pandemic???" but grabbed onto Zoom and conference call meetings and actually brought in some killer projects in new areas. Can you imagine calling on prospects in May of 2020? We were in a Police State Lockdown (so it seemed) yet I'd get a call from one of the BD guys that they had a project.
A sister and a brother (who everyone knows is really the straw that stirs the drink) that were like granite. Neither blinked and never, ever wavered. Both were great sources of solace to me here in the office. Not a whiny word ever. Mary and Henry brought up tough kids!!
I am one of the blessed ones with a wife and kids who also stood beside me always. Anyone who knows Amanda knows she is a trooper, "a take the hill" kind of gal. I can name my wife because no recruiters will go after her as she doesn't work in construction. (Right now, a Recruiter is reading this saying "Hah, I'll go get those other unnamed people there!!!—I still have to acknowledge these people.)
Yes, I was inspired by a group that, as the owner, I am charged with inspiring. Did I make some mistakes in handling the Pandemic? I sure did. Life doesn't give do-overs and, frankly, I hope I never get the opportunity to relive a pandemic and do things differently, but I would do some things different. I did some things right, but I did make some awful moves. Then again, the windshield is 68 times larger in the rear view mirror because the view is more important.
As a result of the sheer grit and determination, the view out our windshield looks great! The pivot to other markets such as Affordable Housing has proven fruitful with some major projects coming to fruition. We hung in our core market as well and we see movement there. BD is getting out to meetings. Our Special Projects Division—QUAD Coatings and Interiors—is making some noise in the marketplace and will continue to grow. I know the guy running it and he will make friends and grow.
I look at the future and I see good things. Had I not had the people here with grit and determination, South Coast might look a lot different today. Cliches are cliches because they are TRUE. People DO make the difference. Specifically, the people here and some of the clients I have been fortunate to work with in Senior Living for 20 years. The clients, overall, were tremendous and reminded me of how important (vital!!) good clients are and that we had better take good care of them. I'm hoping your windshield is bright and that your worst is in the rearview. Surround yourself with smart people and tough people (not thug tough, but character tough) and it is amazing what you can walk through.