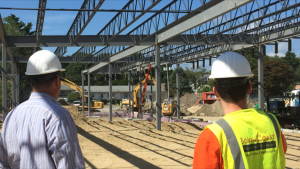 For many years, we would hear the following when interviewing for new builds:
"We like what you guys do but we don't see enough out-of-the-ground experience."
Leaving those meetings would often have me thinking:
"I'm not sure that a new building can be any harder than performing a major renovation in a fully occupied memory care unit or converting a two-pipe, water-fed heating and cooling system to a four-pipe system in a fully occupied building."
So we continued on, slowly building our out-of-the-ground resume. This included a 40,000 square-foot retail center, two additions to an existing assisted living facility and, most recently, a 50,000 square foot, multi-unit residential building.
With those experiences under our belt, I am going to say the following loud and clear:
"A major, complex renovation of an existing health care facility or an assisted living facility is HARDER than building new out-of-the-ground!"
Sure, the big new building is sexy and impressive—and for sure it comes with a different skill set in project delivery than a multi-phased, complex occupied renovation. More difficult? Nope. I don't see it and we've done both.
Out-of-the ground means a ton of pre-con and coordination. It means a great buy with an eye toward schedule and budget. We might be able to step out and take a chance on a sub in the new construction setting if it means savings for the owner. For sure, safety plans for the crews are vital, traffic paths, good relations with the inspectors, hitting schedules and ensuring materials are ordered timely and on-site. For out-of-the-ground, new construction, all these issues are vital and important.
However…
The same holds true with an occupied space renovation and then some. For starters, if the space is fully occupied, you have to be concerned for the safety of the crews AND the safety of the people working and living in the facility.
In addition, the work has to be planned and executed in a way that allows for the activities of daily living to continue on as uninterrupted as possible.
Sub selection is also far more important on a renovation (ask me about our three-step sub verification that all South Coast Improvement subs go through for occupied work!).
Yet by far the most daunting part of occupied space projects is being required to work within the framework of the people living and working on site.
The difference between on-the-ground and occupied work dawned on me about six years ago. It was while standing in a field watching heavy machines grubbing the site. What was different? No residents and no people working there. Just the construction tradesmen doing what tradesmen do.
I couldn't say this for years to anyone but myself because we simply hadn't done both. Now that South Coast Improvement has experience doing both it's quite easy to say. Yes, I love the big, impressive new structures—they are impressive. But those projects are easier than going into a memory care unit and removing a bearing wall, rerouting the MEPs and opening a new wide open space while fully occupied and operational. I say so with experience in both!!
So, if you have a new, big, impressive out-of-the-ground building, bring it on. We've delivered on schedule and budget for many of them. But a tricky interior renovation in a fully occupied setting? I know what those entail and we've done them from Maine to Florida successfully. I'll take it and know it is much harder than out-of-the-ground!!