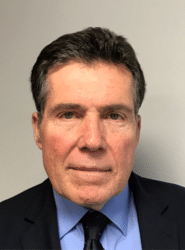 South Coast Improvement Company (SCI), a design-build general contractor serving New England and the Mid-Atlantic states, recently hired John Rock as a construction project executive. Rock, a construction industry veteran with more than three decades of experience, will have executive oversight on SCI's high-profile projects—including the new addition to YWCA in New Bedford, MA.
"John has a tremendous amount of experience in the health/life science arena as well as in commercial retail. He's been part of construction management teams for projects ranging from $10 million to $300 million. Our company is approaching that stratosphere and John will fit in very nicely with the growth of SCI," said Tom Quinlan, president of South Coast Improvement, Inc.
Rock's resume of projects as a management executive includes the redesign and buildout of the Natick Mall and multiple hospital projects for Steward Health Care facilities. That list includes six- and seven-figure projects at Saint Anne's Hospital in Fall River, MA; Good Samaritan Hospital in Brockton MA; Norwood Hospital in Norwood MA; and Morton Hospital in Taunton, MA.
A veteran who served in Vietnam, Rock has a bachelor's degree in mechanical engineering from the University of Rhode Island. He holds both LEED and OSHA certifications and is licensed in Massachusetts as a construction supervisor.
"I've been very fortunate in my career to work on some big and exciting projects, particularly in the life sciences and healthcare arena. There is nothing more challenging than working on a renovation in a medical facility. Not only do you have to be concerned about your project and minimize impact to the very important work the care providers are doing but you must communicate with frequency with multiple parties from the organization," said Rock. "Part of what drew me to South Coast Improvement is their strong track record of projects of this nature and their unbelievable record for repeat business."
Rock resides in Cranston, Rhode Island and is the father to three grown children and nine grandchildren.