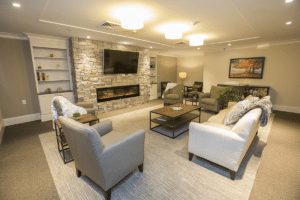 Over the course of the past few newsletters, you have heard me talk about South Coast receiving its ICRA certification a few years ago. That stands for Infection Control Risk Assessment.
ICRA is an assessment matrix the CDC requires healthcare facilities to perform before any renovation, construction, or repair project. When it comes to ICRA, containment is the name of the game. The COVID-19 pandemic certainly calls to light the wisdom of bringing ICRA mentality and best practices to all construction projects going forward.
You may be wondering what makes up the ICRA assessment. What does it look like? Honestly, it contains many of the things that are part of our protocols anyway.
For example, when we first develop a process for a project our first priority is to not disrupt essential services to patients, residents, and staff. That includes a determination of those people who might be impacted by any of our construction activities. That can include any and all of the following:
Moving and removal of debris from a site
Noise from the worksite
Interruptions to traffic flow
Possible power outages
Dust and other HVAC considerations
When assessing these impacts, we use an infection control matrix. This matrix classifies or ranks the project activities and what type of risk it presents to patients, staff and residents.
For example, a Type A might be a simple inspection, painting, or minor plumbing where there is no dust. Type B might be an activity that generates only a little bit of dust, like installing computer cabling or removing ceiling panels. Type C would involve demolition and the removal of debris; an activity that would generate a lot of dust. Finally, a Type D impact is major demolition and/or new construction that takes place over a prolonged period of time.
After defining construction type, you then assess the risk to various patient groups. Those assessments are Low, Medium, High and Highest.
With all these assessments and evaluations in hand, you develop a plan and process to conduct your project. That plan will include construction of ICRA-certified barriers where necessary, clean-up protocol, and mitigation for all areas possibly impacted by airborne contaminants–HVAC, ventilation systems, air conditioning, and even the water supply system.
The ICRA assessment will be supplemented by other measures to mitigate the impact of renovations and new construction. That will include things like anti-microbial materials and hardware, specialized wipe-on products, antimicrobial paint, and HVAC treatment products.
As bad as the current situation is, one thing that will come out of it is a number of new products and technologies that will make these facilities and residences for our aging population much safer. This will improve the quality of their life and, in some cases, the effectiveness of the treatment they will receive.
The ICRA assessment will add to the cost of a project. But as we have covered in other newsletters, its minimal. In fact, South Coast can implement these safety measures in most cases for an added cost of ¼ to ½ of 1% total cost (less on large scale projects depending on type of project and level of protection required).
The current crisis will end. Those best prepared to address the very large elephant in the room—the safety of patients, residents, staff, and customers—will survive. By researching new and better ways to run safer projects, South Coast Improvement will come out of this pandemic with even better tools and processes to serve our clients.
If you would like to discuss in more detail what is involved with an ICRA plan, please give me a call.