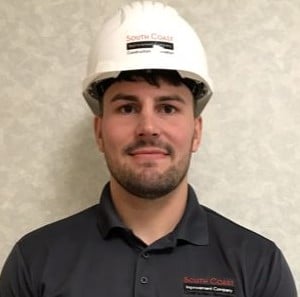 While relaxing over the Labor Day weekend, I perused some earlier editions of our newsletter. It's a fun thing to do from time to time. It's part curiosity and part pride. We have come a long way since this newsletter started back in 2013. South Coast Improvement has grown to be a $40 million company with more than 40 employees.
While scanning, I came across this "classic" Why many construction supervisors can't work for South Coast Improvement . This may sound like a brag piece. Yet the article explains one differentiator between our company and other GCs. Check it out.
Why many construction supervisors can't work for South Coast Improvement
Perhaps can't is a bit strong. It has nothing to do with me as a boss. It does have everything to do with South Coast Improvement's area of expertise: renovating occupied, fully operational healthcare and senior living facilities.
On paper, what we do is pretty straightforward. A typical project might involve reconfiguration of existing space, installation of new ceiling systems, manufacture and installation of new millwork, lighting, flooring and finishes. In the spectrum of construction projects, there are plenty of companies that can easily do this type of work. But can they do it in a fully operational facility and in a way that minimizes the disruption to the activities of daily living of the residents, patients and staff? This is where it gets dicey!
Several years back, we hired a very seasoned site supervisor. His construction knowledge was excellent. He had worked on far more complex projects and had a track record of success. One look at the plans for his first project for South Coast Improvement and he chuckled "Child's play-no problem!" In comparison, the work he managed in the past was far more complex than the job at this facility. So, it would seem this project would pose no problem for our new supervisor. Well…
We held our pre-construction meeting with the client, laying out the schedule, the areas we needed access to and for how long, the safety protocol and all the other logistics that go into a successful project. Still, the new supervisor saw no problem and displayed tremendous "confidence".
Prior to the start of the project, the supervisor had done an excellent job scheduling the subcontractors, purchasing materials, and had a solid production plan in place. So when we met on the first day of the project, I was a little surprised when I saw a look of terror in his eyes.
He said, "I know you explained it to me—but the place is open and people are all around-how do I do this?"
This is where experience and developing processes for work in occupied sensitive spaces is vital. This construction professional, with years of experience and exceptional knowledge, simply could not work in this pressure-cooker environment.
Thankfully, we had a backup plan with one of our existing site supervisors and the job got off without a hitch. And as you might imagine, we carefully screen site superintendents for both temperament for and experience in handling occupied renovations.
This type of work is a different animal. The scope of work is similar and found in any renovation. But the clientele, the importance of schedule, the safety issues, the working with staff, and the audience—all these are NOT to be taken into consideration. That's right, NOT.
For example, many times hallways that are to be renovated are not closed off. Now, can you imagine going to a major highway and repainting the center line while traffic is moving? That's why on every project South Coast Improvement undertakes, logistics are essential. 
In addition, we also have to work and satisfy the needs and requirements of a number of people on any given project:
• The Architect
• The Designer
• The Owner
• The Executive Director
• The Facilities Manager
• Staff Nurses
• Residents and/or Patients
• Families of the Residents and/or Patients
Conservatively speaking, that number of people is always more than 100.
Look, healthcare and senior living is the hot niche and contractors are flocking to it without the needed experience in constructing a project while maintaining operations. At South Coast Improvement, we have had the opportunity to work for major colleges, law firms, restaurants, hotels, condominiums, retail space, office space–the importance of process on projects at those facilities doesn't even come close to what's needed at a healthcare or senior facility.
South Coast Improvement has worked for all of the top providers nationwide of senior living and healthcare services and count all of them as repeat customers. We could pat ourselves on the back and say it's because the work we do is so much better. I believe it is because our process is better.
Sure, the work has to be good. That's a given. But without a proven track record for process, it would be one and done for most of those clients instead of repeat business. At the end of the day, process is what we hang our hat on.