[fusion_builder_container hundred_percent="no" hundred_percent_height="no" hundred_percent_height_scroll="no" hundred_percent_height_center_content="yes" equal_height_columns="no" menu_anchor="" hide_on_mobile="small-visibility,medium-visibility,large-visibility" status="published" publish_date="" class="" id="" link_color="" link_hover_color="" border_size="" border_color="" border_style="solid" margin_top="" margin_bottom="" padding_top="" padding_right="" padding_bottom="" padding_left="" gradient_start_color="" gradient_end_color="" gradient_start_position="0″ gradient_end_position="100″ gradient_type="linear" radial_direction="center center" linear_angle="180″ background_color="" background_image="" background_position="center center" background_repeat="no-repeat" fade="no" background_parallax="none" enable_mobile="no" parallax_speed="0.3″ background_blend_mode="none" video_mp4="" video_webm="" video_ogv="" video_url="" video_aspect_ratio="16:9″ video_loop="yes" video_mute="yes" video_preview_image="" filter_hue="0″ filter_saturation="100″ filter_brightness="100″ filter_contrast="100″ filter_invert="0″ filter_sepia="0″ filter_opacity="100″ filter_blur="0″ filter_hue_hover="0″ filter_saturation_hover="100″ filter_brightness_hover="100″ filter_contrast_hover="100″ filter_invert_hover="0″ filter_sepia_hover="0″ filter_opacity_hover="100″ filter_blur_hover="0″][fusion_builder_row][fusion_builder_column type="1_5″ layout="1_1″ spacing="" center_content="no" link="" target="_self" min_height="" hide_on_mobile="small-visibility,medium-visibility,large-visibility" class="" id="" hover_type="none" border_size="0″ border_color="" border_style="solid" border_position="all" border_radius="" box_shadow="no" dimension_box_shadow="" box_shadow_blur="0″ box_shadow_spread="0″ box_shadow_color="" box_shadow_style="" padding_top="" padding_right="" padding_bottom="" padding_left="" margin_top="" margin_bottom="" background_type="single" gradient_start_color="" gradient_end_color="" gradient_start_position="0″ gradient_end_position="100″ gradient_type="linear" radial_direction="center center" linear_angle="180″ background_color="" background_image="" background_image_id="" background_position="left top" background_repeat="no-repeat" background_blend_mode="none" animation_type="" animation_direction="left" animation_speed="0.3″ animation_offset="" filter_type="regular" filter_hue="0″ filter_saturation="100″ filter_brightness="100″ filter_contrast="100″ filter_invert="0″ filter_sepia="0″ filter_opacity="100″ filter_blur="0″ filter_hue_hover="0″ filter_saturation_hover="100″ filter_brightness_hover="100″ filter_contrast_hover="100″ filter_invert_hover="0″ filter_sepia_hover="0″ filter_opacity_hover="100″ filter_blur_hover="0″ last="no"][fusion_text columns="" column_min_width="" column_spacing="" rule_style="default" rule_size="" rule_color="" hide_on_mobile="small-visibility,medium-visibility,large-visibility" class="" id="" animation_type="" animation_direction="left" animation_speed="0.3″ animation_offset=""]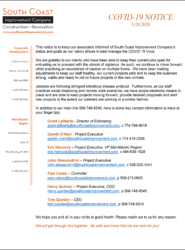 Click Here
to download a pdf
of our COVID-19 Notice
[/fusion_text][/fusion_builder_column][fusion_builder_column type="3_5″ layout="1_1″ spacing="" center_content="no" link="" target="_self" min_height="" hide_on_mobile="small-visibility,medium-visibility,large-visibility" class="" id="" hover_type="none" border_size="0″ border_color="" border_style="solid" border_position="all" border_radius="" box_shadow="no" dimension_box_shadow="" box_shadow_blur="0″ box_shadow_spread="0″ box_shadow_color="" box_shadow_style="" padding_top="" padding_right="" padding_bottom="" padding_left="" margin_top="" margin_bottom="" background_type="single" gradient_start_color="" gradient_end_color="" gradient_start_position="0″ gradient_end_position="100″ gradient_type="linear" radial_direction="center center" linear_angle="180″ background_color="" background_image="" background_image_id="" background_position="left top" background_repeat="no-repeat" background_blend_mode="none" animation_type="" animation_direction="left" animation_speed="0.3″ animation_offset="" filter_type="regular" filter_hue="0″ filter_saturation="100″ filter_brightness="100″ filter_contrast="100″ filter_invert="0″ filter_sepia="0″ filter_opacity="100″ filter_blur="0″ filter_hue_hover="0″ filter_saturation_hover="100″ filter_brightness_hover="100″ filter_contrast_hover="100″ filter_invert_hover="0″ filter_sepia_hover="0″ filter_opacity_hover="100″ filter_blur_hover="0″ last="no"][fusion_title title_type="text" rotation_effect="bounceIn" display_time="1200″ highlight_effect="circle" loop_animation="off" highlight_width="9″ highlight_top_margin="0″ before_text="" rotation_text="" highlight_text="" after_text="" hide_on_mobile="small-visibility,medium-visibility,large-visibility" class="" id="" content_align="left" size="1″ font_size="" animated_font_size="" fusion_font_family_title_font="" fusion_font_subset_title_font="" fusion_font_variant_title_font="" line_height="" letter_spacing="" margin_top="" margin_bottom="" margin_top_mobile="" margin_bottom_mobile="" text_color="#d64f2a" animated_text_color="" highlight_color="" style_type="none" sep_color="" animation_type="" animation_direction="left" animation_speed="0.3″ animation_offset=""]
COVID-19 NOTICE
3/20/2020
[/fusion_title][fusion_text columns="" column_min_width="" column_spacing="" rule_style="default" rule_size="" rule_color="" hide_on_mobile="small-visibility,medium-visibility,large-visibility" class="" id="" animation_type="" animation_direction="left" animation_speed="0.3″ animation_offset=""]
This notice is to keep our associates informed of South Coast Improvement Company's status and goals as our nation strives to best manage the COVID-19 Virus.
We are grateful to our clients who have been able to keep their current jobs open for entrusting us to proceed with the utmost of vigilance. As such, we continue to move forward while practicing an abundance of caution on multiple fronts.  We have been making adjustments to keep our staff healthy, our current projects safe and to keep the business strong, viable and ready to roll on future projects in this new climate.
Jobsites are following stringent infectious disease protocol.  Furthermore, as our staff practices social distancing and remote work scenarios, we have ample electronic means in place and are able to keep projects moving forward, provide detailed proposals and start new projects to the extent our partners are working in a similar fashion.
In addition to our main line 508-748-6545, here is some key contact information to have at your finger tips:
Grant Laliberte – Director of Estimating
grant.laliberte@southcoastimprovement.com, c 774-766-8618
Gareth O'Neill – Project Executive
gareth.oneill@southcoastimprovement.com, c 774-419-2206
Eric Hancock – Project Executive, VP Mid-Atlantic Region
eric.hancock@southcoastimprovement.com, c 484-638-1628
John Alessandrini – Project Executive
john.alessandrini@southcoastimprovement.com, 508-525-1441
Pam Carew – Controller
pam.carew@southcoastimprovement.com, p 508-213-0620
Henry Quinlan – Project Executive, COO
henry.quinlan@southcoastimprovement.com, p 508-748-6545
Tom Quinlan – CEO
tom.quinlan@southcoastimprovement.com, p 508-748-6545
Please reach out to us for any reason.
We will get through this together. Be safe and know that we are here for you
[/fusion_text][/fusion_builder_column][fusion_builder_column type="1_5″ layout="1_1″ spacing="" center_content="no" link="" target="_self" min_height="" hide_on_mobile="small-visibility,medium-visibility,large-visibility" class="" id="" hover_type="none" border_size="0″ border_color="" border_style="solid" border_position="all" border_radius="" box_shadow="no" dimension_box_shadow="" box_shadow_blur="0″ box_shadow_spread="0″ box_shadow_color="" box_shadow_style="" padding_top="" padding_right="" padding_bottom="" padding_left="" margin_top="" margin_bottom="" background_type="single" gradient_start_color="" gradient_end_color="" gradient_start_position="0″ gradient_end_position="100″ gradient_type="linear" radial_direction="center center" linear_angle="180″ background_color="" background_image="" background_image_id="" background_position="left top" background_repeat="no-repeat" background_blend_mode="none" animation_type="" animation_direction="left" animation_speed="0.3″ animation_offset="" filter_type="regular" filter_hue="0″ filter_saturation="100″ filter_brightness="100″ filter_contrast="100″ filter_invert="0″ filter_sepia="0″ filter_opacity="100″ filter_blur="0″ filter_hue_hover="0″ filter_saturation_hover="100″ filter_brightness_hover="100″ filter_contrast_hover="100″ filter_invert_hover="0″ filter_sepia_hover="0″ filter_opacity_hover="100″ filter_blur_hover="0″ last="no"][/fusion_builder_column][/fusion_builder_row][/fusion_builder_container]